This site contains affiliate links to products. We may receive a commission for purchases made through these links.
Saving money isn't as hard as you might think. You can use some or all of these hacks I have included below to help you! I have saved thousands over the years! Being a mom of three…this has been a necessity to surviving parenthood lol!
Put Savings Back First
The hardest AND the easiest way to save money is to put it away first.
If you have a budget worked out (and if you don't you can try this one) you should already have an amount worked in. If you put it back first, there is no way you can waste it on impulse buys!
For me, this is one of the only ways I can save without touching it!
Negotiate Bills
This one is one of my favorites because nobody ever uses It. Anything in this world is negotiable…anything. Heck, sometimes I'll negotiate to sell one of my kids (I'm just kidding lol).
But seriously, we just negotiated our garbage pickup bill the other day.
You can hit up your cell phone provider, cable or tv provider, insurance company, gas, and so on.
All you need to do it gather up all the phone numbers to the companies you are gonna try and give them a call.
I usually tell them that I am unhappy with the price of my service and looking to go elsewhere unless they give me a better price. Before I canceled my dish service, they lowered it almost $20 a month to try and get me to stay.
Here is an example script: "Hey, I'm __________ and I am thinking strongly about canceling my satellite service with you unless you can offer me a better deal. I'm currently looking into a different plan but wanted to give you an opportunity to keep my business." It will go one of two ways…hopefully they will come back with a better rate.
They all might not lower their price, but you certainly won't know until you try. Its not like they are going to get mad at you for asking and cancel your service.
Quick $ saving tip: we canceled our satellite service and we only use Hulu and Netflix. We went from paying $80 per month to now only paying $22 and that is because I pay a tad bit extra for the no commercial plan with Hulu.
Learn to Say No
Lets face the facts here. Most of us are impulse buyers that just need to learn to say no and it's ok!
90% of our impulse purchases lead to regret later on anyway. Just say no or find a happy medium.
You can always add an extra category into your budget that will let you have those impulse buys once or twice a month but by adding this into your budget, you can still make sure that the amount spent is kept under control.
Use Money Saving Apps
I wrote this post The Best Apps for Saving Money and included all of my favorites!
Using apps is an easy way to get some money back, I have gotten $42 back just from Ibotta alone! And all I did was grocery shop as normal!!!
I like Dosh too because its automatically attached to my bank card so every time I shop at places like Sams I get money back and it does it on its own!!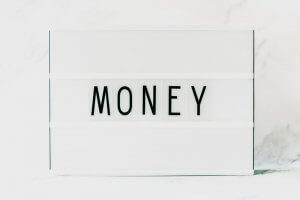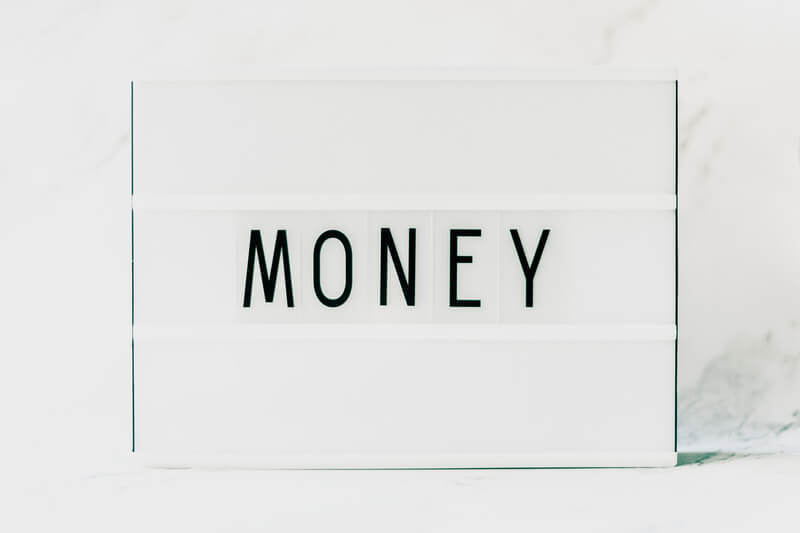 Adjust Your Grocery Budget
I wrote an entire post about this –A Simple Grocery Budget You Can Stick With
Making simple changes to your grocery budget can save you LOTS!! It was one of the best things I have ever done in terms of saving money!!
I took Erin Chase's Grocery Budget Maker course (which is super cheap) and learned SO MUCH from her!!! She also has a $5 dollar meal plan that can save you time and money…who doesn't want to do that??
Meal Prep
Meal prepping has been one of the best things for making sure I don't overbuy at the grocery store. I usually sit down on Sunday afternoon and pick the meals for the week ahead.
Then I make a list of the ingredients that I need and take off. Of course I add in the other things we are out of or need. I usually use google for meal prepping- like below I would say "easy cheap chicken breast recipes"…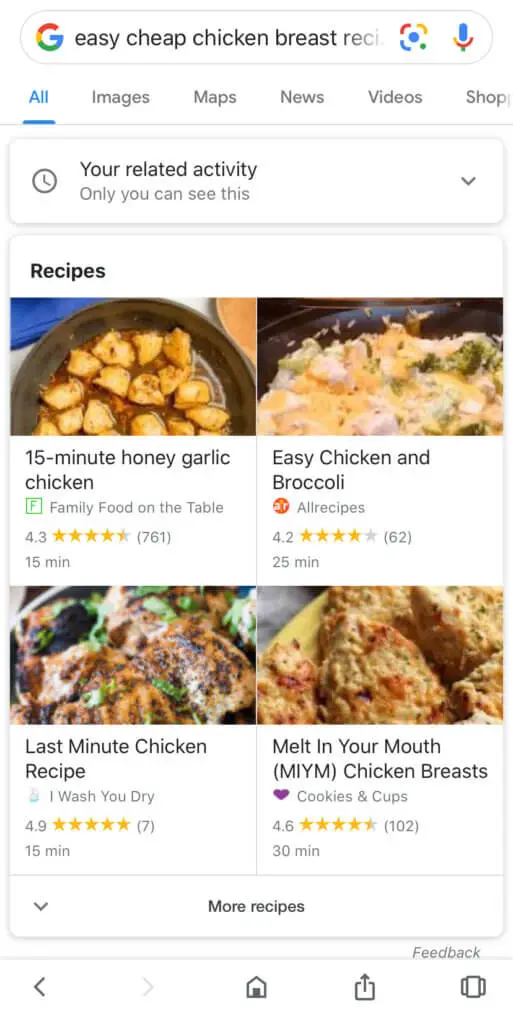 I have a note pad on the fridge for my family to write down things they got the last of or used up. This helps me when I am making my list.
I have found that I spend way less money when I use a list than when I just go in the grocery store blind lol.
Buy Second Hand
I like searching for the best deals on clothes and shoes before I buy. My favorite place to look for deals is on Poshmark (if you use my code SSEAWR5923 you can save $10 when you sign up and $10 after your first purchase).
I will also head into Goodwill to find things. I have stumbled upon several high dollar brand name items in there for cheap!
eBay is a great website to find deals on just about anything! I have ordered several things, including a pair of shoes for one of my kids…the shoes had been worn twice and it saved me $35…that is a no brainer!!
Check Your Budget
You can find ways to save if you put a fresh set of eyes on your budget. Sometimes if you go back over it and things need to be adjusted this is a perfect opportunity to put that money into the save category.
You can start a budget if you haven't already by checking out this post The Easiest Budget for Beginners
Shop Generic
There is nothing wrong with buying generic or store brands. This has allowed me to save several hundred dollars! 9 times out of 10 the generic is just as good as the brand name.
To me, I would rather have that extra money!!

Used Cars are the Way to Go
When you buy new, you can expect a 30% depreciation in the first year of ownership so why not just buy used and YOU get that depreciation money in savings for yourself.
I recently bought a 2017 Honda CRV that had 30k miles on it. It was $10,000 less than the new one I looked at first. It had all the bells and whistles as the new one but I believe I will take that $10k in savings and do something else with it!!
Air BnB
Do you have an extra room in your house or do you want to earn some cash renting out your space while you are gone? If you think this will work for you Click Here.
Earn extra cash from Air BnB. Airbnb makes it simple and secure to host travelers.
You're in full control of your availability, prices, house rules, and how you interact with guests.
To keep you, your home, and your belongings safe, they cover every booking with $1M USD in property damage protection and another $1M USD in insurance against accidents.
How could you not be interested in this one? I don't think I even own a million dollars worth of stuff so even if my place gets messed up, it sounds like I am covered!
DIY
Did you know that there are so many things you can do yourself? DIY is a great thing for saving money.
I am a serious DIYer…so much so that I have even fixed my own refrigerator by googling the problem and watching a YouTube video to fix it. Turned out it was a super simple fix that just required some dawn dish soap.
Get Rid of Your Junk
Why do we always hang on to stuff and fool ourselves into thinking we are going to use it again one day?
I am so guilty of this that I have a hard time even telling you to do this.
I try really hard though to get rid of stuff. (it makes it better when I can sell it for cash)
A great place to sell stuff is on eBay, Poshmark, or Facebook Marketplace (make sure that if you use this, you meet people in a safe open place when trading goods).
Pay Installment Loans Bi-weekly
You will ultimately pay less interest on an Installment loan if you pay it bi-weekly or every week if you get paid that way.
Taking a $200 payment and splitting it up into weekly payments of $50 will help apply money to the principal sooner and reduce the amount of interest.
You are still paying the same amount but just accelerating the payback.
Saving money isn't as hard as you think and I hope you can take one of these hacks and put them to use. If you have any ideas that can help others save post them in the comments below.
Follow me on Pinterest for more money saving and money making ideas!