This site contains affiliate links to products. We may receive a commission for purchases made through these links.
If you are looking for a great way to earn some extra money or make a full-time income, you should look at Etsy. Etsy has really changed my side hustle income for the better.
Especially after what happened in 2020…
*side note: I am a dental hygienist that works at schools so guess what happens when schools are closed…
I started my Etsy shop about a year ago and have currently made 720 sales! That's crazy and almost all of those sales are digital products. They are pretty much passive income (you create it once and it pays over and over again).
Since I have found so much success on Etsy, I thought I would share what I found with you! I have all the sell on Etsy tips right here in this post.
*Sneak Peek at some of the Top Sellers:
Digital Printables & Downloads
Craft Supplies
Digital Art
Planners & Journals
Wedding Gifts & Invitations
Paper & Party Supplies
Jewelry
Have You Ever Heard of Etsy?
What even is Etsy? Well, it's an e-commerce site that's based on handmade items, craft supplies, and vintage items. There are so many different things on Etsy now, it's hard to list them all.
I have been using Etsy for years to buy crafty things but it wasn't until 2020 that I decided to make a go at selling on the platform.
Etsy has over 60 million items currently for sale! That's huge.
Etsy also has a steady flow of buyers coming to make purchases on the platform. Many of the top stores are making over 500 sales a day (all the top 20 sellers are making over 500 per day).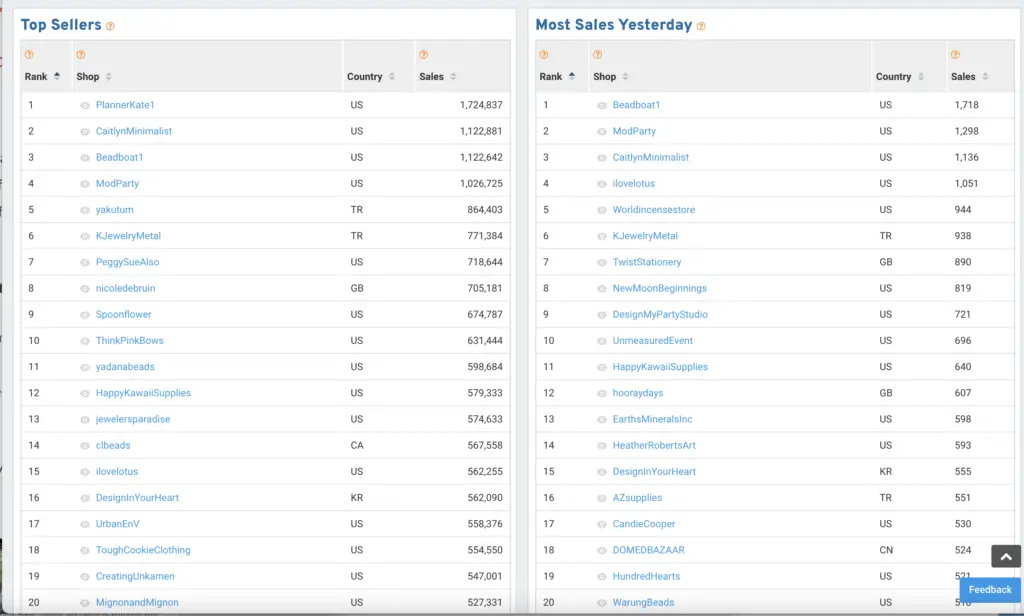 Are People Making Money On Etsy?
Yes, a lot of people are making good money on Etsy. If you hustle hard enough, you can make a full-time income on the platform. Just this one store makes a nice six-figure income each and every year.
Just like with any business, you have to put in the effort and time to get your ideal customer to purchase from you and then get them to come back again.
I have had several repeat buyers in my shop. Probably because I am very niche and mostly sell one kind of product.
How Do You Start An Etsy Shop?
Starting an Etsy shop is so easy. It is totally free and you can get 40 free listings by using this link. Each listing is $0.20 each after that. They stay active for 4 months.
Every time an item sells, you pay 5% plus $0.20 to relist it (if you choose to do so automatically and that is what I recommend).
If you have a physical product, you can determine your own shipping costs by using the calculator they provide in the listings or you can offer free shipping. If you offer free shipping, it will attract more buyers, just be sure you add it into the price so you don't lose money.
*If you use Etsy to make your shipping labels you will save 25% off postage!
If you sell a digital product, Etsy will deliver it for you which makes selling digital products so much more awesome!
Every once and a while, I will have a customer encounter a problem with their download so to keep my customer service stellar, I usually offer to help by emailing them the file personally.
When you get ready to start your shop, use this link and sign up with an email. This will be your Etsy profile. Since I already had an existing profile, I used that email so I can see everything under one dashboard.

*When you are inside your dashboard, you can toggle between the two using the top-left drop-down arrow as I have pictured above.
Once you have signed in, choose a profile picture or a snapshot of yourself to let people know who you are. Most buyers want to see the face of the "real" person they are buying from. It makes the buying experience more personable.

Also, be sure to tell them who you are in the Shop settings. There you will find a place to put your cover photo, shop title, a personal message to buyers as well as your story to tell them about you.
Another important thing to do is add shop policies and answer frequently asked questions. In the shop policies, you add things like your payment options and returns or exchanges. In the frequently asked questions, you can answer general questions to keep your message load down.
The best part about all of this is there is no business license needed and Etsy collects sales tax for you. They also keep track of your numbers and at tax time, they offer a discount for turbo tax to help you get your taxes filed correctly (I used this last year).
They also pay you according to which option you choose. Your money can be deposited every day, once per week, every two weeks, or once per month.
What is Etsy's Cut?
As I mentioned before, Etsy charges $0.20 per listing and takes 5% of the sale, but to have someone collect sales tax for you and bring the customers to your store (with proper setup and SEO), that's not bad.
Also, you only pay the listing fee if the item doesn't sell. So if you start with 40 free listings, once you make a sale you can reinvest that money into more listings. (that is what I did)
I also reevaluate my listing to see which ones aren't selling before the 4 months are up and decide if I want to pay the $0.20 to renew or not.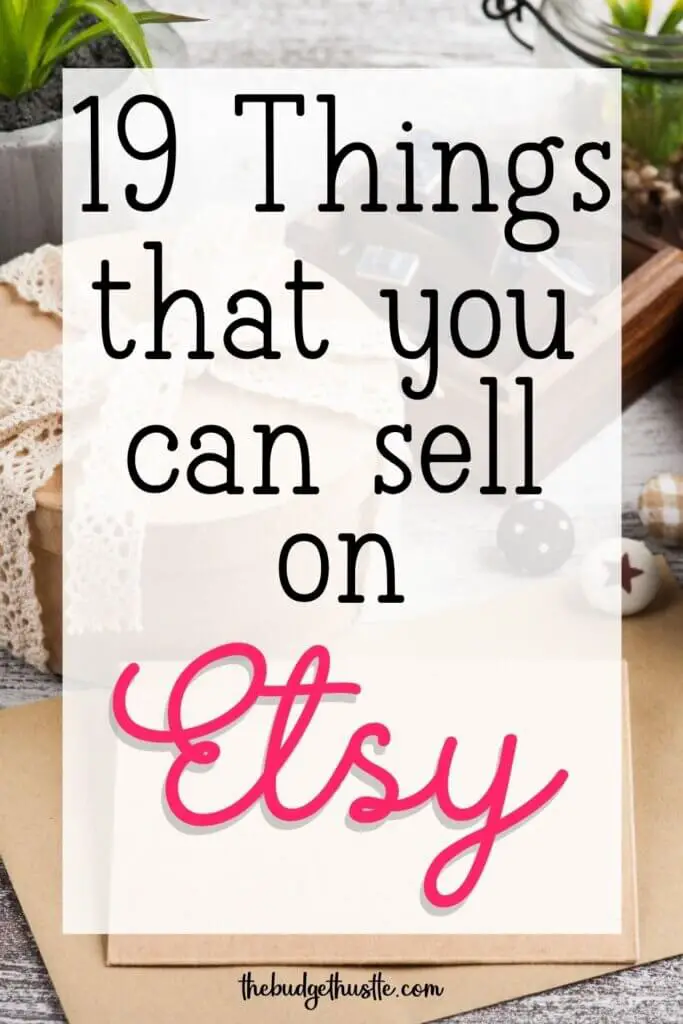 Top 19 Things To Sell On Etsy
You don't necessarily have to be crafty to sell on Etsy. The top sellers on the platform sell craft supplies, beads, or crystals.
I sell SVG and PNG files. I took a course during the pandemic to learned how to use Adobe for SVG design and have made $1600 so far from those listings. I recently expanded into making keychains and planners (which I design in Adobe InDesign). I want to start making printables next.
1. Digital Downloads
This is my category, I sell digital cut files called SVG's in my store. People can use those files to cut out vinyl or any compatible product on their cutting machine. Other digital downloads can be PNG's for sublimation, JPEG's, PDF's, or any format of the file that people can download and use on their own.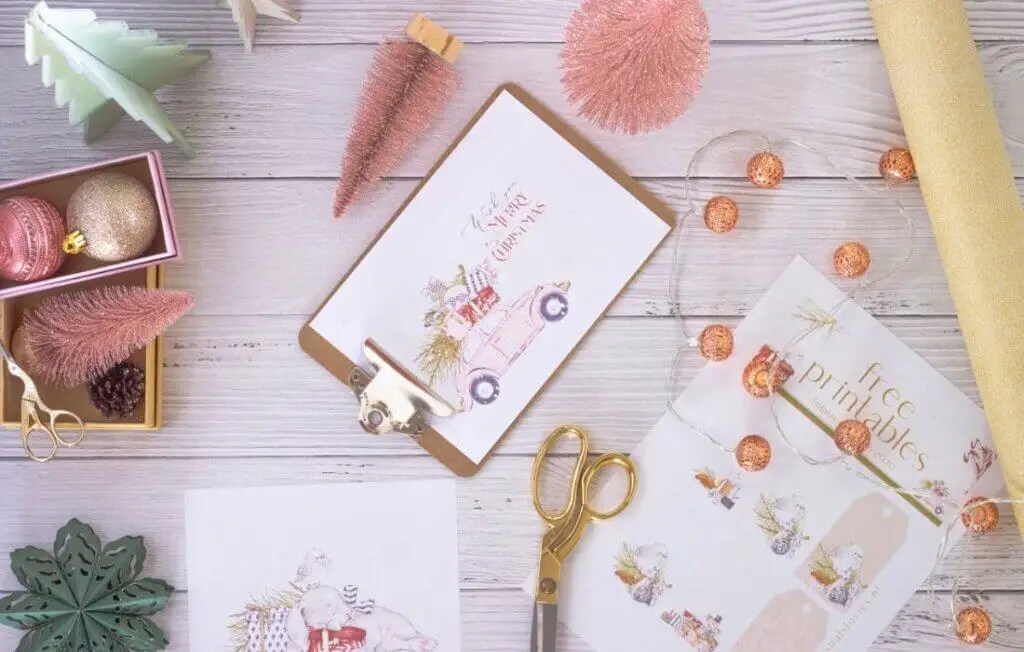 2. Printables
Printables are a hot item right now, especially if you want passive income. You create something like a tooth brushing chart that moms can print for their kids. You create it one time, uploaded it to your Etsy listing and it sells over and over again. Even while you are asleep.
Examples of printables would be meal planners, budgeting sheets, kids activity sheets, chore lists, labels, stickers, coloring pages, scrapbook templates, resume templates and so much more!
3. Digital Art
I love this category too because it allows you to express your artistic creativity without having to create a physical product. For a lower price point, you create the art and people download and print themselves.
This keeps you from having to worry about shipping, possible damage during shipping and the customer doesn't have to wait to use the art either.
4. Jewelry
Handmade jewelry is very popular on Etsy and has been for years. If you want something one of a kind, a personalized piece of jewelry is perfect.
The more unique, the better. People love to find one-of-a-kind items to give as gifts. Unique gifts can thrive in even the most saturated of markets because everyone is so different and their tastes are not the same.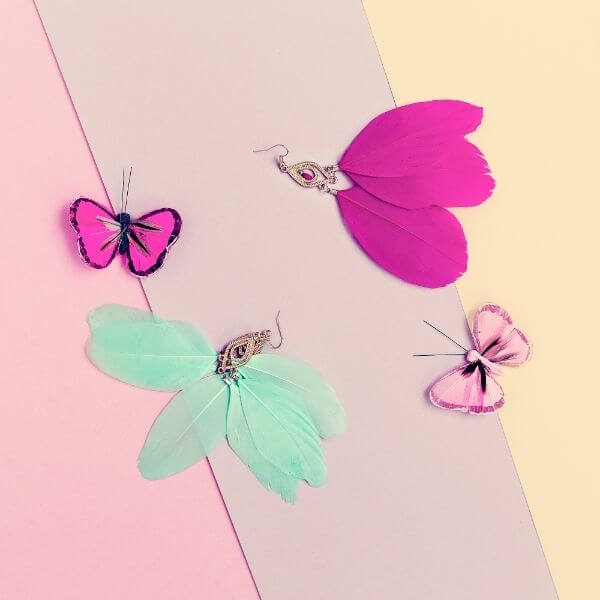 5. Planners, Notebooks & Journals
Yes, people still like notebooks and they still love to journal. You could sell your notebooks or journals as digital downloads or physical products. I have both in my store.
Planners are also really big. The number one seller on Etsy is selling planner printables. Yes, this goes under the printable category too but planners are so big, you can make some serious money with just this.
If you decide to make planners, you should aim for starting in the summer because August is the prime time for planners. (I make undated planners so they can start at any time)
6. Craft & Jewelry Supplies
This is a big one. I have purchased supplies for making keychains to sell on Etsy straight from Etsy. This category can include paper, faux leather, beads, silicone, acrylic, and even craft supplies for kid's crafts.
7. Stickers
Wall stickers and planner stickers are very popular on Etsy. You could also include water bottle stickers and bumper stickers on this list or any kind of sticker really.
8. Wedding Supplies
This category is big right now as people are looking for invitation ideas and bridal party gifts. People want to be unique and different so they head to Etsy just for that.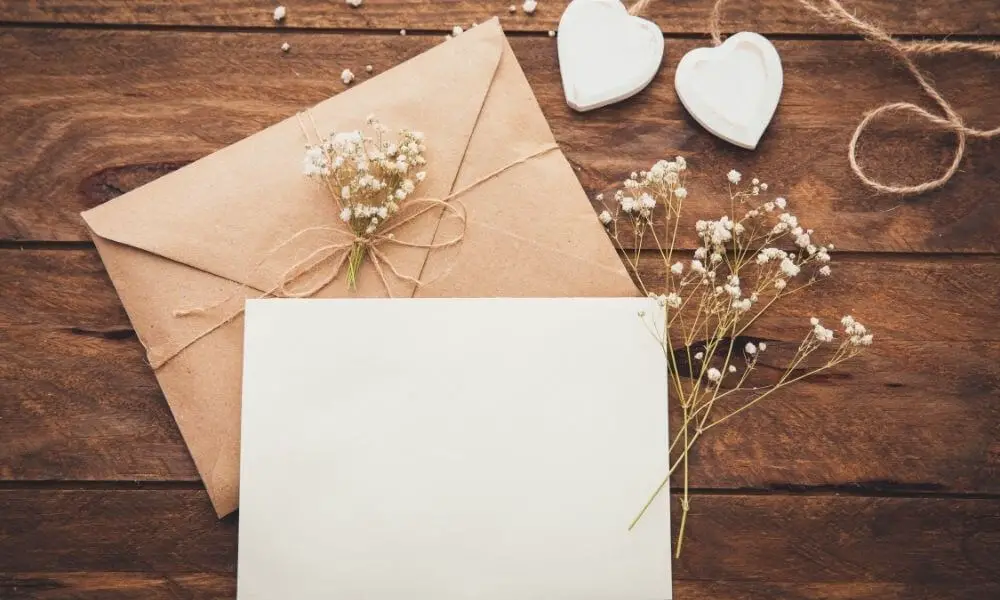 9. Party Supplies
People love to throw parties and they also love to have themes. You can sell handmade party accessories, invitations, and party games to play. This can include any kind of party from graduation to birthday or even baby gender reveals.
10. Baby Clothing & Accessories
Baby bows and ribbons are so popular on Etsy in this category. I know of several shops killing it with baby headbands!
11. Accessories
This category can include things like scarves, keychains, hairbows and so much more.
12. Toys
Kid's toys are still a big category, especially since big box stores don't carry unique, personalized toys. You can customize wooden toys or handmake things that kids can play with. I personally love handmade wooden toys!
13. Vintage Items
People are always looking for something vintage and special to put in their homes for decoration or to just display. If you have a knack for finding these items, what better way to make some serious cash than to sell them on Etsy!
Vintage to you might mean something different than vintage to someone else. If you have something old, consider listing it before you throw it out!
14. Pet Products
People love pets and will spend money to make sure they have cute accessories for them. You can make collars, leashes, name tags, toys, and anything personalized like water bowls or food bowls.
I have a friend who makes wooden dog bowl holders to sell on Etsy.
15. Homemade Beauty & Bath Products
People are moving away from allowing chemicals to be in their products so if you know how to make a soap or beauty product, you can sell them on Etsy. Handmade soaps and bath bombs are very popular right now.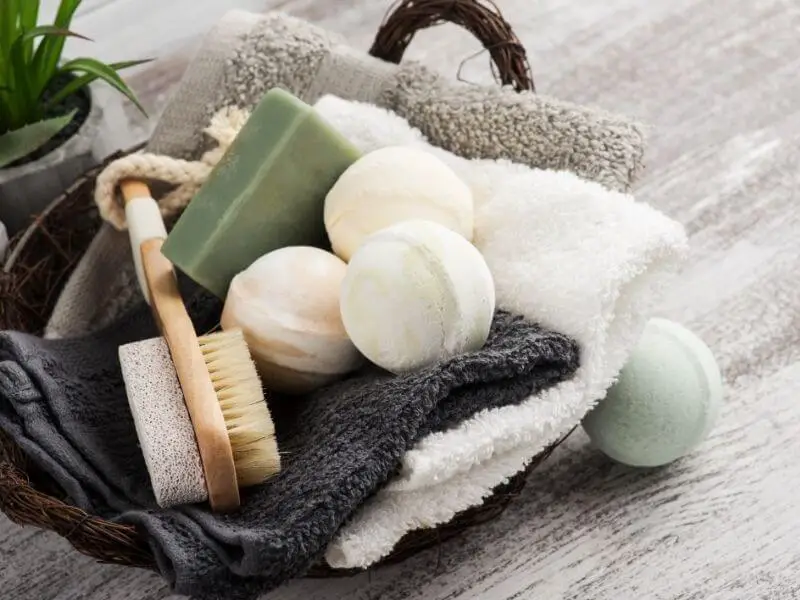 16. Bags
Personalized and handmade bags are a great item to sell, especially if you can make leather bags. Leather totes are popular on Etsy and are sold for $100 or more.
17. Phone Cases
I have purchased a few custom phone cases from Etsy for myself in the past. Monogrammed or personalized unique phone cases sell great. People want unique and custom…it sells.
18. Kids Clothes
Selling cute boutique or handmade kids clothes and shirts is a great category to sell under. T-shirts with kid's names are popular for birthdays and photo shoots. People also love to buy these when it's back to school time.
19. Fabric
Selling fabric is huge on Etsy. One of the top sellers, Spoonflower sells custom fabric and wallpaper. Especially custom patterns. I bought lots of tooth fabric from Etsy to make scrub caps for myself and coworkers during the pandemic.
Etsy Selling Tools
In order to figure out what you want to sell on Etsy, you need to do some research. You need to figure out a niche and what you want to sell in that niche.
Since I am a Dental Hygienist by day, I am naturally in the dental niche. In order to find things to sell in my niche, I can use Etsy itself for research. PS- It's FREE!
I just go to Etsy search and type in my keyword, then scour the results for products. Never copy anyone's products, just simply use the search for inspiration.
You can also use a tool that I use called eRank. I have a paid subscription so that I can see all the information I want like the top sellers, etc. In order to use this tool, you have to link an existing Etsy shop, so this is something you can try after you get set up.
There is a free version that allows you to use the keyword tool, listing audit, rank checker, listing analyzer, and keyword explorer. ( I use the middle plan, it's plenty)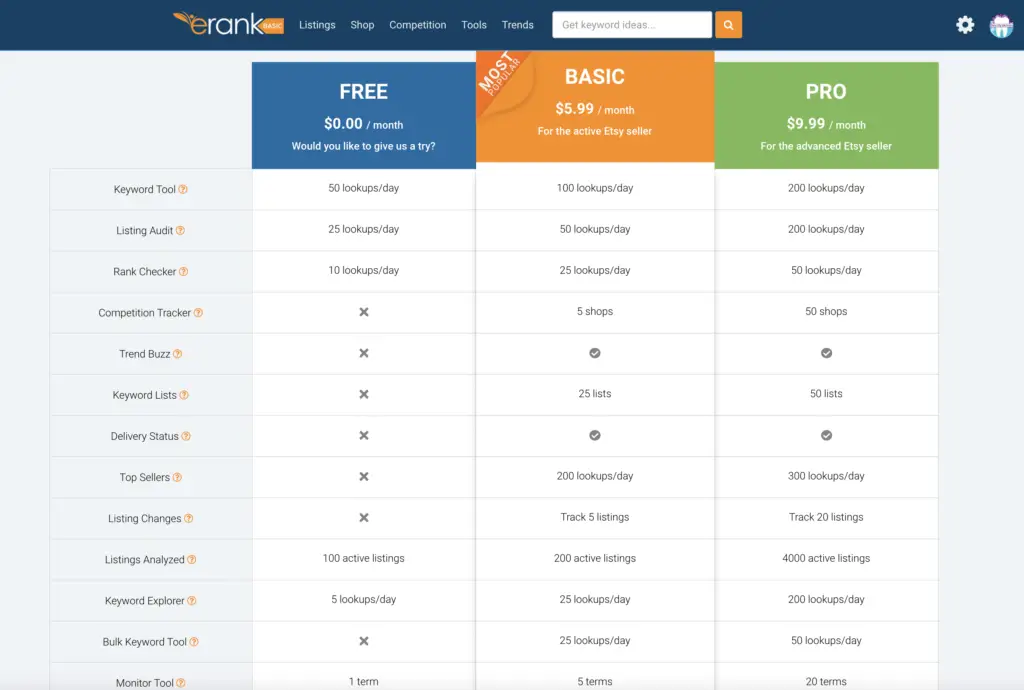 Another tool to check out is Sales Samurai. This tool can show you search volume and the competition, prices, shipping, and what is selling the best on Etsy.
This tool is $9.99 per month, but you could use it for 30 days and then cancel. I did this with Ahref's free 7 day trial for keyword research for blogging.
Getting Etsy Traffic
If you use the right search terms, Etsy will bring the customers right to you. You can also use Etsy ads to get the word out. I use Pinterest to advertise my products because you can connect your store. I make all my graphics on Canva.
You can also use social media to bring in customers or create your own custom website (Etsy has an easy way to do this in the settings).
Conclusion And Tips
In order to be successful on Etsy, you have to know what is selling and be able to stand out. Make sure you take great product photos and have good descriptions as well as good SEO search terms in your listings.
Keep your customers happy by providing excellent customer service and stellar products so they will leave you five-star reviews. Make sure to always respond to their requests and (as long as they aren't trying to scam your store) it's always better to keep them happy so they will return for business or leave you a great review!
Leave your customer a little thank you note in the packaging if you offer physical products and be sure to package the products so they look nice. This will go a long way!
I hope this article helped you open your eyes to the possibilities of being an Etsy shop owner and if you have any questions at all feel free to email me at thebudgethustle(at)gmail(dot)com.
Also, follow me on Pinterest and be sure to check out my Etsy Shop!!