This site contains affiliate links to products. We may receive a commission for purchases made through these links.
An Introvert is someone who shy, quiet, and reserved. This can make working a side hustle for introverts difficult because these people typically don't like to interact with others. I have social anxiety so I can assure you that I know how it feels.
I have put together this list of side hustle jobs that introverts can do to help you find a way to make extra money that doesn't involve much talking or social interaction. I even do a few of these myself.
1. Blogging
Although blogging can be hard to get started, it can (with some hard work) become a great side hustle for introverts. I say it is great because you literally get to sit behind the keyboard and create without having to talk to anyone. The funny thing is, you are actually talking to your audience.
If you have social anxiety like I do, blogging is great. I get to use it as a creative outlet without having to talk to a soul.
If this is something you are considering you can check out my favorite course for getting started here. I also wrote a quick start guide that you can see here.
2. Freelance Writing
Freelancing basically means you are providing a service for different companies rather than being employed at just one. It gives you the freedom to work on your schedule and to work as little or as much as you want.
You can go to UpWork or 3. Virtual Assistant
Ever heard of a Virtual Assistant? This is a person who gets paid to do certain tasks online. The great thing about it is, you can work from anywhere and most VA jobs let you work when you want as long as you complete the task by a certain time. It would be a great job for an introvert because you get to work from home.
There are lots of Facebook groups you can join and start looking around for opportunities. You can even go to job sites and put in virtual assistant to search for potential jobs. I have seen several here lately because everything is moving to the online space. What better time to jump on board.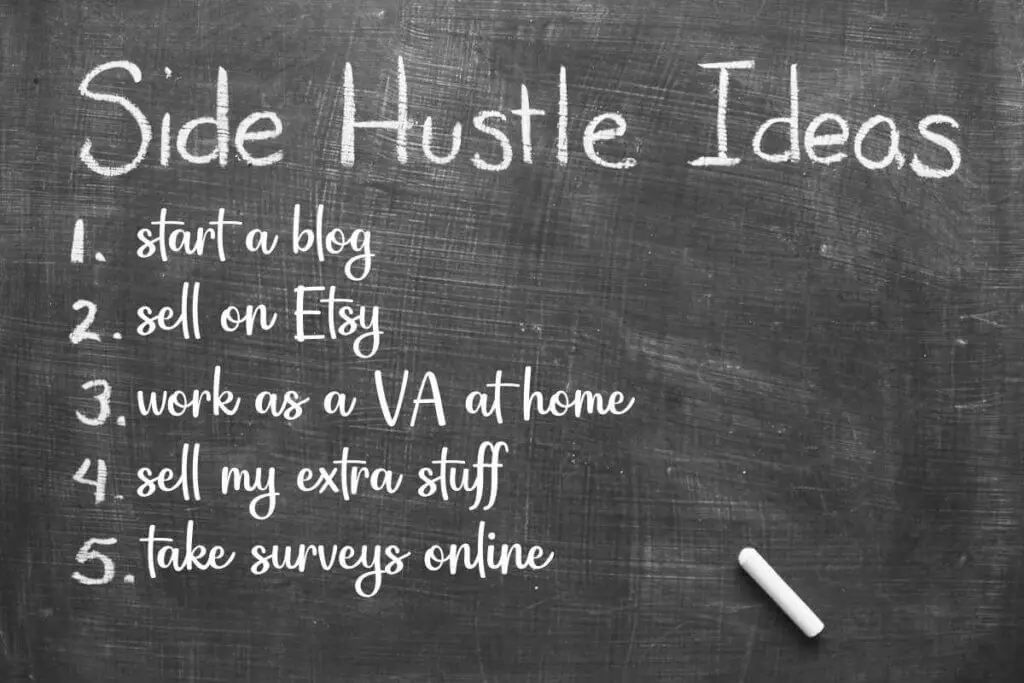 4. Online Surveys
Taking surveys makes it easy for you to earn some extra cash without having to interact with people. Some sites will ask you to complete surveys, while others will ask you to complete tasks.
Some sites to try are:
5. Online Course Creater
Online courses are a great way for you to show off what you know. With everything shifting virtually, now is a great time to create a course.
There are no stupid ideas when it comes to course creation. Literally, if someone has googled it looking for an answer than you can create a course about it.
Some of the platforms to get started are Skillshare (If you click the banner below you can get 2 months free) and Teachable.
If you have never created a course before there is a software program that helps you create ebooks easily.
6. Retail Arbitrage
If you like to shop the clearance aisle at Walmart then you might stumble upon a great deal. You can buy things from the clearance aisle and sell them on eBay for a profit. If this sounds like something that you want to try you won't have to worry because Walmart will let you return items if you can't get it sold so its kind of a low-risk opportunity.
I keep saying that I'm going to give this a try. I had a patient who started doing this as a teen and it is now a very lucrative career for him. He does it full time! I think its fun to find deals! There are also apps for retail arbitrage that show you if things are a good deal or not.
7. Proofreading
Proofreading is an important part of writing. If reading errors and typos drive you crazy, then proofreading might be the job for you. You can do it on your own time from anywhere so this is a great job for an introvert.
You can use Grammarly to help you find spelling errors along with spell check on your computer. Click below to try it out.

Some places to find work would be UpWork and

.