This site contains affiliate links to products. We may receive a commission for purchases made through these links.
I love to decorate, but I hate to spend money on home decor. Over the past 12 years that I have had a home, I have found ways to decorate on a dime. Being able to save on home decor is the way to go.
It just takes a little time but you know what they say about time being worth money. I say that my time saves me money.
I have DIYed so many things, including home decor and remodel projects. I thought I would share a few of my tips with you today.
Figure Out Your Style
First thing you have to do is figure out your style. I would say that I lean more towards a farmhouse style so I can find things I like all over the place. Once you have an idea of what your style is, you can start looking around.
Grab Ideas from Pinterest
Its ok to get ideas before you start. I'm not good at coming up with things all by myself so I go to Pinterest for inspiration. I promise there are so many ideas on there that you could look for days. The great thing about Pinterest is that you can create boards and pin your ideas to them.
I usually go to Pinterest first when I need some ideas.
Hit up Yard Sales and Thrift Stores
I love a good thrift store or yard sale. You can find some great things there to decorate with. All you need to do is be able to imagine it repainted or cleaned up. One of my favorite bowls that I decorate with is second-hand. I cleaned it up and it looks antique. I love it!
I also love old bottles. I can usually find them at thrift stores or yard sales and then I display them in my house.
I have a friend who refinishes furniture or paints it. She can take something that you get off the side of the road for free and turn it into something that people would pay hundreds for. All it takes is a little time and like I said before, I love to use my time to save me money.
Reuse
You can take things that you have in one place in your house and reuse them to decorate another. This will give the illusion that things are different and it will spice up your decor.
You can also trade with family or friends who want to change up their decor. When they say "one mans trash is another mans treasure" I think they mean that if I'm done decorating with it and we trade it becomes a treasure to me, lol.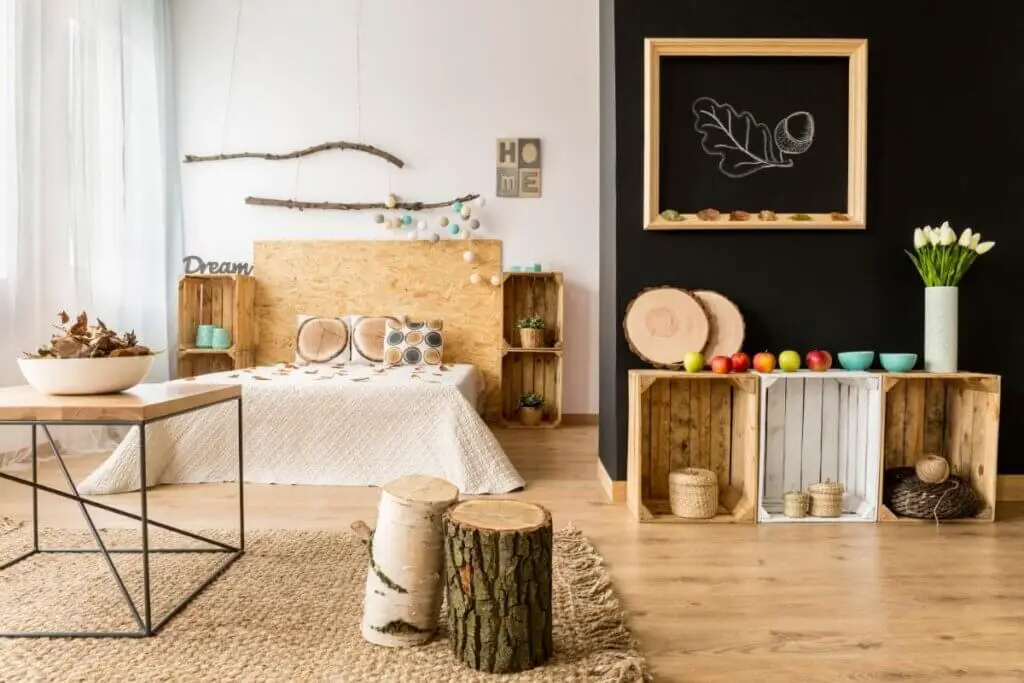 Paint Old Furniture
Just like my friend does, you can paint furniture to give it a new look. I painted my bathroom cabinets (which was a job, let me tell you) and it made me feel like I had a new bathroom after I painted the walls a different color too.
I think its fun to try and make things look new again with paint. Its amazing what you can do.
Another thing I did (with Pinterest Inspiration) was make a chalkboard wall. We framed it in and painted it with chalk. We put cork above it so I could hang my kids art above it and draw things on the chalkboard. It was a very inexpensive way to use paint to change the decor.
The paint below is from Amazon and is the brand I used for my wall.
Recover Pillows
Watch this video to see what a difference recovering a throw pillow can do for your home. This video is the no-sew method but I have made my own pillow covers with zippers so that I can change them out or wash the covers.
A friend of mine had me make her pillow covers when she wanted to change the look up in her house. It was a fun and easy project. There are videos that show how to sew a pillow cover if you have a machine.
Move Furniture
My husband doesn't like it when I move furniture around but I sure do like how it can change the look of a room. You can even move pieces from one room to another to give things a change. My kids like to do this so I play around with their rooms often.
Sometimes I think they only ask me to do it because they know I will clean too.
Get a New Rug
I usually head over to Overstock.com and find a deal on a rug. I'm so in love with the 8×10 foot rug I got for my den and it only cost me $110. Thats a steal and it is a cheap way to change up my decor.
When I get tired of it, I don't feel bad about changing it because I know I didn't spend a lot of money on it.
I'll let you see my rug below but you have to promise to not judge my dirty house, there was a very cute mandelorian with a gun keeping me from cleaning.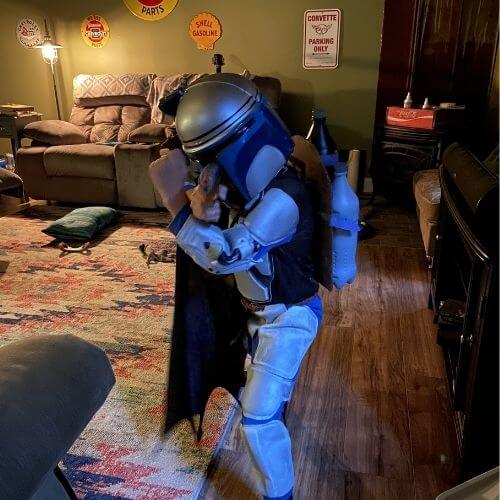 Print and Frame ArtWork
So, if you want to find cheap(er) art work. Head over to Etsy and you can shop PDF printables that can be framed. I usually get dollar store frames and hang them. I have one in my boys bathroom that says "say your prayers because Jesus and Germs are everywhere."
I think it was a .99 download. I can't remember but I know it wasn't more than $3 and then I got a $5 frame to hang it in. It looks like I have a professional picture hanging but I really have less than $8 in the whole thing.
Hobby Lobby
Hobby Lobby is my jam for finding cute decor on the low low. They always have things on sale and if not, you can use their 40% coupon on one item. If you watch their sales ad, the sales usually rotate so you can just wait until the category you are looking for is on sale.
My last decor purchase was some really cute vases with fake succulents to go in them for my kitchen window. I was really able to save on this home decor because it was the week that section was 50% off.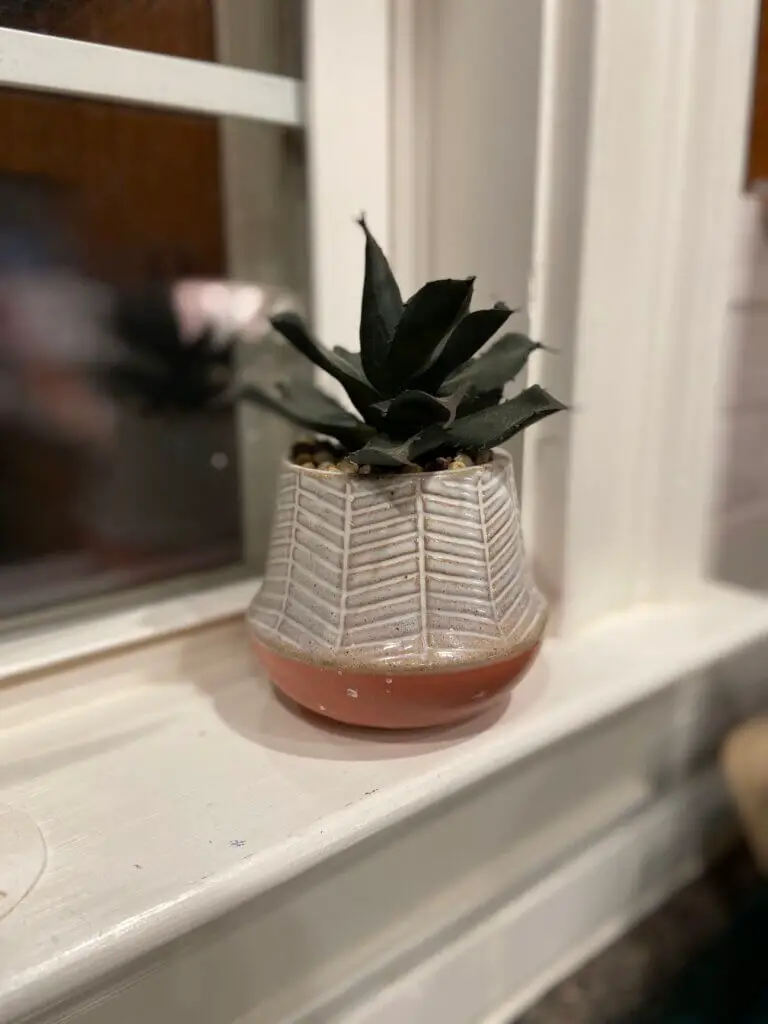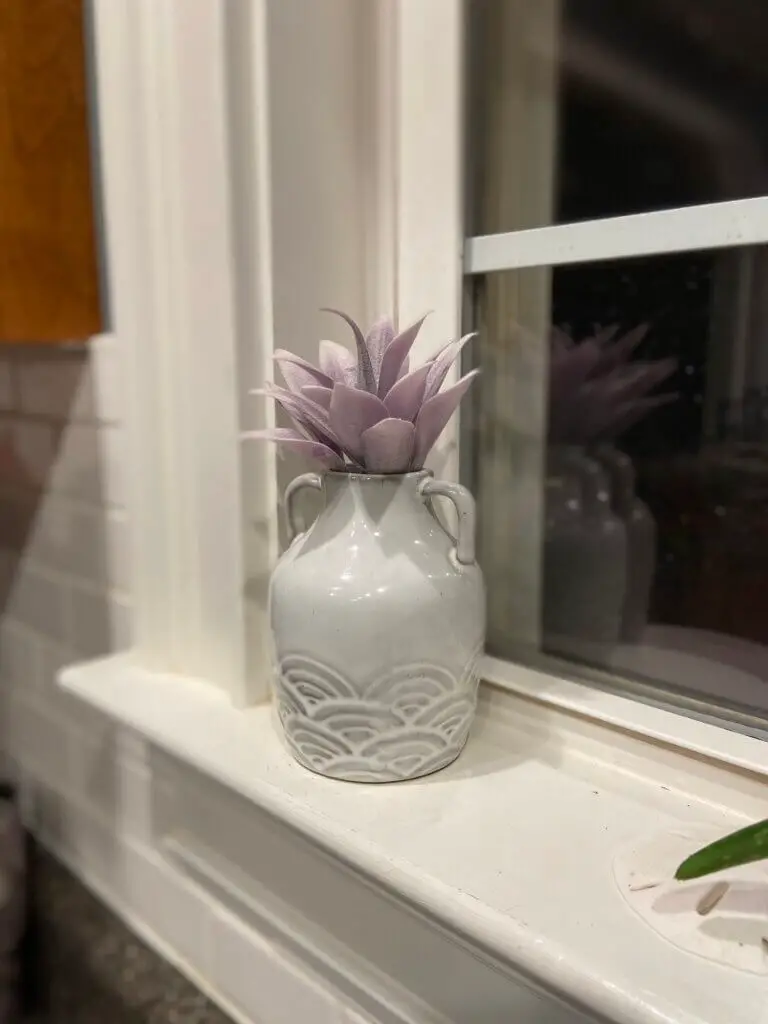 TJ Maxx
I love to decorate almost as much as a love a clean house, but we all know what a lived in house's version of clean is. But seriously, I just want my home to feel like my home without spending a fortune. I hope I was able to inspire you to decorate on a dime.
The other decor store I love is TJ Maxx. They ALWAYS have home goods that I love. I find everything from pillows to kitchen stuff in there. I haven't been since the pandemic but just writing about this store makes me want to go right now.
Saving money is my fav!
Head over to Pinterest and follow me. Then you can start browsing for ideas.